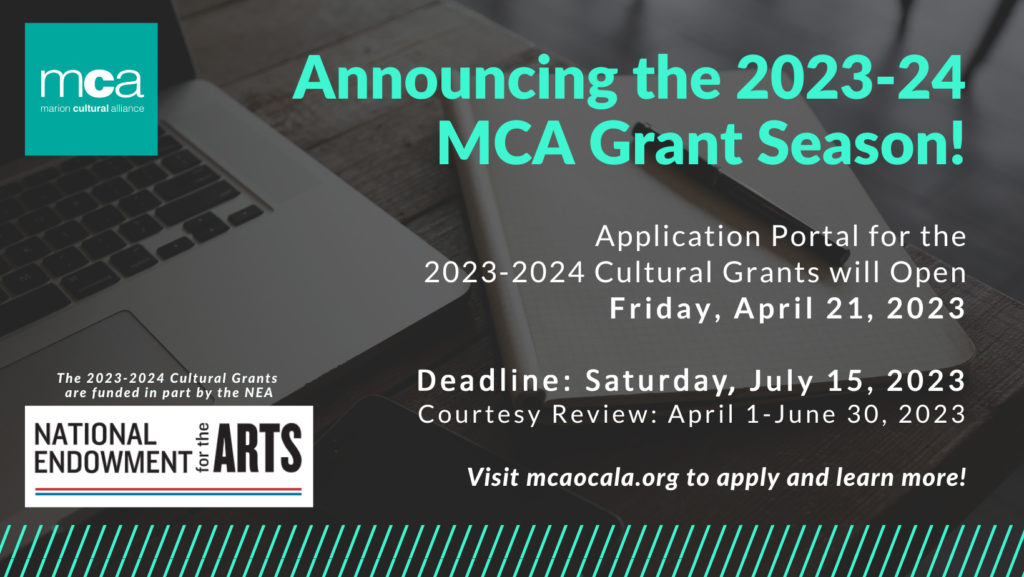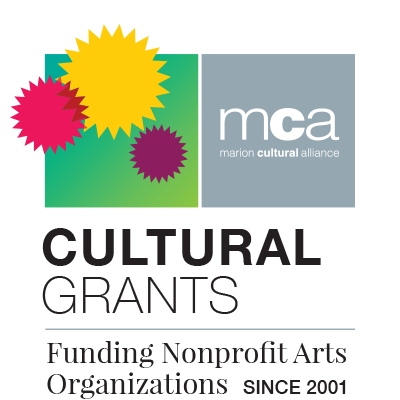 The Grants Portal is Now Open!
The deadline for Application is Saturday, July 15, 2023
Courtesy Review April 10 – June 30, 2023
About MCA's Cultural Grant
A key element of MCA's mission is supporting local arts organizations with direct funding. Cultural grants are an important means to promote excellence in the creative sector and the cornerstone of MCA's fund-raising efforts.
The Cultural Endowment Fund was established in 2001 and was initially funded with proceeds from our community's first ever public art initiative – Horse Fever. To date, $465,000 has been awarded to more than 42 different nonprofit art organizations. These dollars have supported more than 135 art initiatives including programming, equipment, and initiatives; and has impacted more than 345,000 individuals including seniors, veterans, persons with disabilities, students, and artists.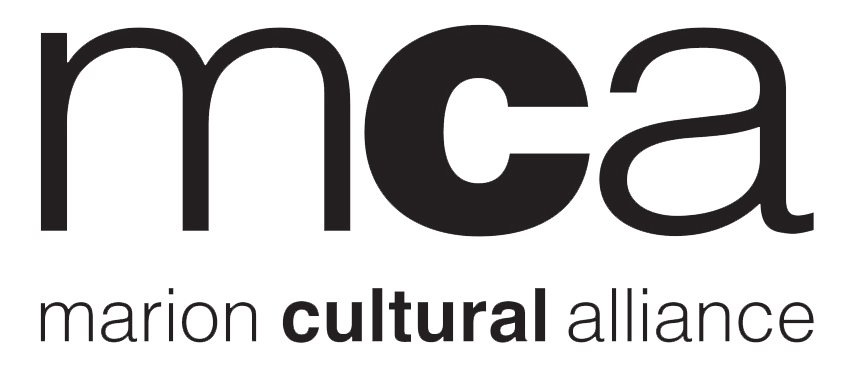 Marion Cultural Alliance to Receive $40,000 Grant from the National Endowment for the Arts
Ocala, Florida-Marion Cultural Alliance is pleased to announce it has been approved by the National Endowment for the Arts (NEA) to receive a Grants for Arts Projects award of $40,000 This grant will be matched by MCA dollar-for-dollar allowing MCA to fund up to $80,000 to local arts and cultural nonprofits. This grant is one of 1,251 Grants for Arts Projects awards totaling nearly $28.8 million that were announced by the NEA as part of its first round of fiscal year 2023 grants.
"The National Endowment for the Arts is proud to support arts projects in communities nationwide," said NEA Chair Maria Rosario Jackson, PhD. "Projects such as this one with Marion Cultural Alliance will support arts and cultural ecosystems, provide equitable opportunities for arts participation and practice, and contribute to the health of our communities and our economy."
Jaye Baillie, MCA Executive Director said, "MCA has been a funder for the arts since 2001 allowing our local arts and cultural organizations to apply for grants through a competitive process. We are thrilled to receive the NEA's grant allowing us to more than double the amount we award in the 2023-2024 grant cycle. With this award, MCA will have provided $525,000 in general support for arts nonprofits in the Ocala Metro."
Arts and Cultural organizations may apply for grant up to $12,000, $7,500, or smaller grants up to $5,000. The guidelines, timeline, process, and the application are located on mcaocala.org.
Deadline for submission is July 15, 2023.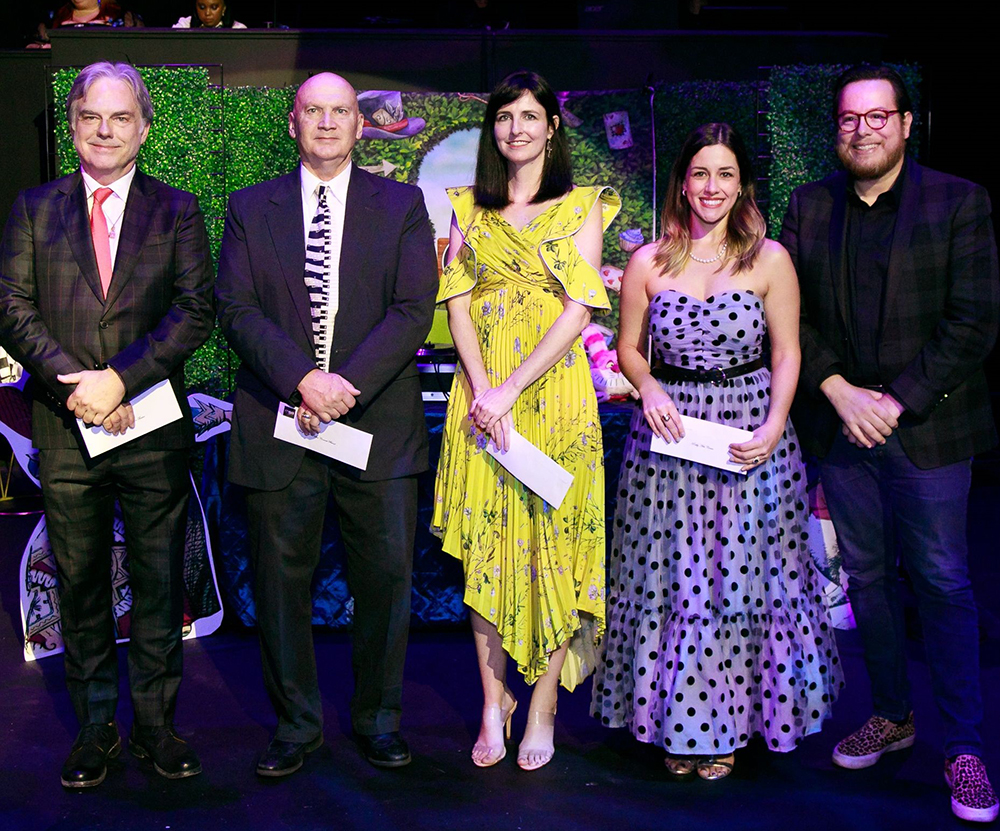 Congratulations to the recipients of MCA's 2022-2023 Cultural Grants.. MCA is proud to support these organizations through its annual competitive grant process.
Kingdom of the Sun Concert Band: Veterans Light the Stars ($2,500)
The Appleton Museum of Art: Free First Fridays ($5,000)
The Reilly Arts Center: Chris Botte-Live in Concert ($5,000)
Ocala Symphony Orchestra: "Youthful Renderings" Performance Featuring the Winners of the 2023 Young Artists Competition ($5,000)
The Ocala Civic Theatre: Lit Light-Illuminating Story Telling ($5,000)
Marion Civic Chorale: Veterans Day Programs ($2,000)
The Grant Process
Each spring, MCA announces the release of the Cultural Grant Criteria and Application to the nonprofit arts community. Ocala/Marion County arts nonprofit organizations are awarded grants to enhance, expand, or support their artistic or cultural endeavors.
Cultural Grants are available for all artistic disciplines, including: music, theater, dance, visual arts, cinema, literary arts, folk arts, and photography. Historical and scientific museums may also apply.
A committee of community volunteers, chaired by an MCA Board member, evaluates and scores each grant utilizing the criteria provided by the Florida Department of Cultural Affairs. Following the evaluation and scoring process, the committee's recommendations are reviewed by MCA & the Executive Committee, and presented to the Board for final review and approval.
Each art organization approved by the MCA board for funding, will be notified following the August meeting of the Board. The grants are formally awarded with a check presentation at Applaud the Arts, MCA's annual showcase and celebration of the arts.
To apply, organizations must submit the required contents, electronically, by 5 pm on Saturday, July 15, 2023. A final report is due no later than thirty (30) days after grant activity is completed.
Grant Application and Guidelines
Acknowledgement
GRANTEES MUST ACKNOWLEDGE THE GRANT IN ALL PUBLICITY AND MATERIALS USING THE MCA/NEA LOGO PROVIDED AND/OR VERBIAGE LIKE: SUPPORTED IN PART BY A GRANT FROM MARION CULTURAL ALLIANCE AND THE NEA. MCA MAY PUBLICIZE THE GRANT USING PHOTOGRAPHS FROM APPLICATIONS AND REPORTS.
Grant Resources