Call to Artists & Makers: The Shop at The Brick
(For Consignment: JANUARY – APRIL 2023)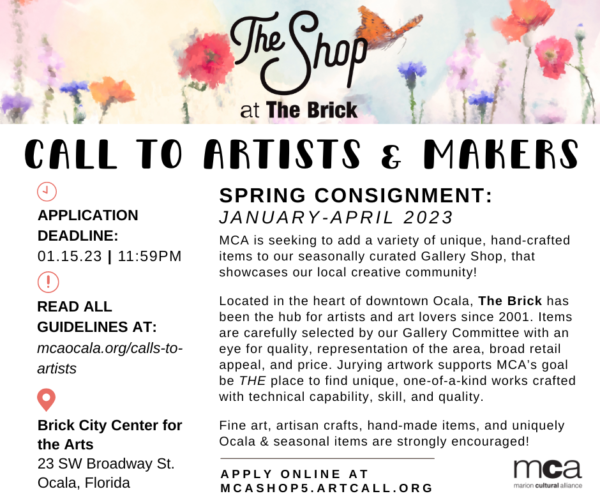 Prospectus: MCA seeks to add a variety of fine arts & artisan crafts to its Gallery Shop that showcases our local creative community. Located in the heart of downtown Ocala, The Brick Gallery has been the hub for artists and art lovers since 2001. Items will be carefully selected by our Gallery Committee with an eye for quality, representation of the area, broad retail appeal, and price. Jurying artwork supports MCA's goal be THE place to find unique, one-of-a-kind works crafted with technical capability, skill, and quality.

Eligibility: Must be an active MCA artist member. Local and regional artists can join online anytime at mcaocala.org/membership for only $30 per year.

Mediums: We are looking to showcase our region's creative bounty by including fine arts & artisan crafts including but in no means limited to; original paintings, drawings, photographs, jewelry, ceramics, glass, wood, metal, artist-made notecards, reproduction prints, textiles, artist-made wearables, home décor items, holiday items, and uniquely Ocala items. Have something else not on this list? Contact us! We'd love to hear from you.

Compensation: The sale of artwork is split with 70% going to the Artist and 30% to support MCA's mission of championing the arts in Marion County, Florida. Checks and a statement of sales will be available for pick up along with any unsold items at the end of the consignment period (90 days).

Deadline: The deadline to apply for the SPRING 2023 selection is Sunday, January 15, 2023 by 11:59pm. This consignment period will run through April 2023. MCA rotates consignment on a quarterly basis.

Entry Guidelines: To be considered for The Shop, artists must apply through ArtCall by the established deadline. MCA's guidelines ensure that we can represent your work fairly and display it to its best effect. We reserve the right to refuse to display any work that does not meet these guidelines:

Artists must set up a profile and submit each piece separately at mcashop5.artcall.org, along with high-res images, contact info, title of artwork, dimensions, sale price and a brief statement and/or bio.
Artwork must be handmade, original art created by the artist – no kits or mass-produced items!
Artists may submit a maximum of 10 original works for consideration.
Artwork must be display-ready based on the medium and manner of presentation.
All artworks have a size limit: suggested size is up to 20" (inches) in any direction.
Specific uniquely OCALA and/or seasonal items are encouraged for this consignment period.

Other Information: MCA Gallery Committee will review new submissions made via ArtCall only, no exceptions. Artists will be notified of their status via email by January 21, 2023. Selected applicants must drop off their items on Monday, January 23 between 10am – 4pm, and/or Tuesday, January 24 between 10am – 5pm. Only pre-approved pieces will be added. Accepted artists will be asked to sign a Consignment Agreement and bring a Submission Confirmation receipt for each of the approved artwork(s), which may be downloaded from the "Calls to Artists" section on our website. It is the artists' responsibility to complete the Inventory Sheet clearly, with each piece labeled with price and inventory number. Further information and the consignment agreement will be sent along with notification of acceptance or rejection. If your art is not selected, please do not be discouraged! Space is limited and very competitive. We encourage you to try again next season!

Contact: MCA Gallery Director; Ashley Justiniano | Email: [email protected]

Gallery Hours: Tuesday through Friday 10-5, Saturday 11-4. Closed Sunday & Monday.