16th Annual Applaud the Arts
Soirée de Lumière
Saturday, October 14, 2023 | 7 – 10 p.m.
at the Appleton Museum of Art
SEE EVENT PHOTO ALBUM ON MCA'S FACEBOOK PAGE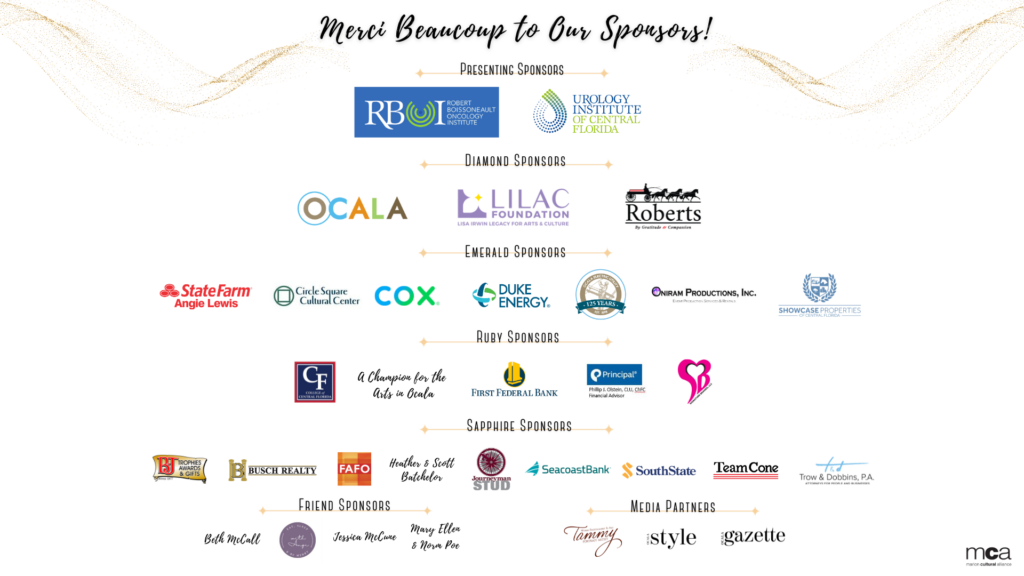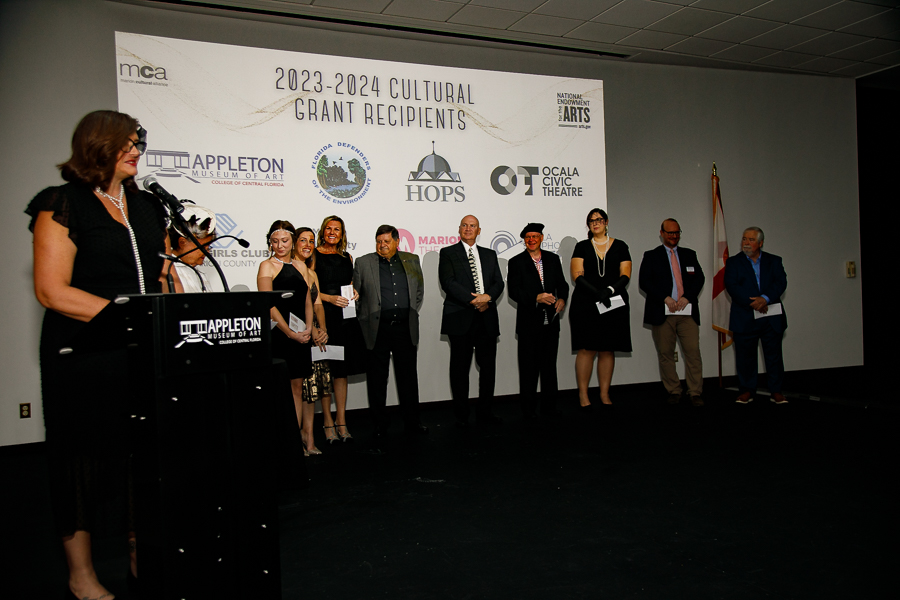 For more information about sponsorship opportunities, please contact Jaye Baillie, MCA Executive Director by clicking here, or call (352) 369-1500
---
About Applaud the Arts
MCA annually presents Applaud the Arts, Ocala's largest gathering of artists, arts organizations, MCA members, and the business community. This signature event kicks off the cultural season in Ocala with the announcement of arts awards, cultural grants recipients and is always set in one of our favorite cultural venues. Following the brief program, guests enjoy tapas, libations, and entertainment. The 2022 Applaud the Arts will be held on October 8 at the NOMA Black Box at the Reilly Arts Center.
We Applaud the Arts because…
art creates beauty in our city and connects its people
art is a cornerstone of a healthy and prosperous community
art is an economic driver
art improves education by encouraging creativity, problem solving, and lateral thinking
art improves and inspires economic development, creates jobs and produces tax revenue
art attracts tourism revenue
art is an experience fundamental to our humanity
We hope you will join artists, CEO's, Entrepreneurs, elected officials, arts patrons, and nonprofit leaders as we gather to applaud the visionary individuals and organizations who play such a vital role in the quality of life in Ocala/Marion County.
Email MCA Executive Director Jaye Baillie for more information or call (352) 369-1500
---
Marion Cultural Alliance: Eighth Annual ARTS AWARDS
EDUCATION AWARD – Prof. Tyrus Clutter
Recognizes an arts educator (K-college) who utilizes the arts as a tool for achieving excellence.

VISION AWARD – Margaret "Peggy" Watts
Recognizes an individual or an organization in Ocala/Marion County for their outstanding advocacy of the arts.

SERVICE AWARD – Dr. Leslie Hammond
Recognizes an exceptional individual for their dedicated volunteerism in the arts and contribution to the arts community.
   
Arts Awards Information
Questions? Please contact Jaye Baillie, MCA Executive Director at (352) 369-1500
Powered by:
ARTS Awards Sponsored by: