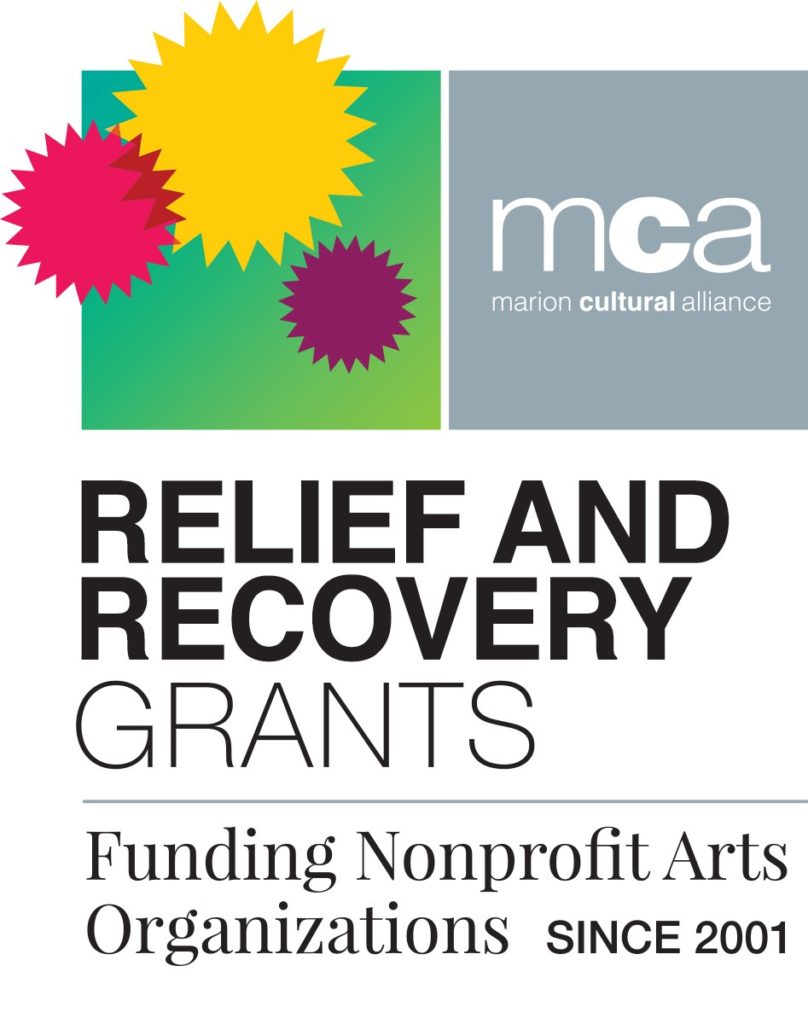 Emergency Response for Nonprofit Arts and Cultural Organizations
Purpose
Ocala/Marion County's arts and cultural organizations were among the first to be impacted by COVID-19 as social distancing was mandated and mass public gatherings were banned. Marion Cultural Alliance recognizes the immediate loss of income our arts and cultural organizations are facing and the unexpected and unprecedented disruption to events, performances, and exhibits as a result of the cancellation or postponement of arts and culture events.
In response, the Marion Cultural Alliance Board of Directors is quickly repurposing its Cultural Grant program to respond to, and address the needs of, the arts and cultural sector. MCA will commit $25,000. That, combined with $12,500 from an anonymous donor, will make a total of $37,500 available to arts and cultural organizations. MCA will pursue additional funds as well, as the need is great and this sector is vital to our quality of life. The local arts community impacts our economy enormously by bringing over $56 million dollars into our local economy, and prior to the coronavirus outbreak, employed over 1700 individuals, not counting those contracted for services. Additionally, the arts and cultural sector generates $6.1 million in local and state revenue.
To the extent that funding is available, MCA's Emergency Response for nonprofit Arts & Culture Organizations will make fast-tracked grants of up to $5,000 available to Arts and Cultural local nonprofits facing extreme threat to their viability and sustainability due to the COVID-19 Pandemic and resulting cancellation of events.
Who May Apply
To be eligible for a grant from MCA's Emergency Response for Arts & Cultural Organizations program, an organization must meet all the following requirements:
Have a 501(c)3 tax status
Have received a Cultural Grant from MCA within the past four years
Be a current member organization of Marion Cultural Alliance
Eligible Requests
Marion Cultural Alliance will accept applications from Ocala/Marion County nonprofit arts and cultural organizations that have been directly impacted by the COVID-19 Pandemic. Applications must detail unexpected loss of revenue and/or unexpected increases in expenses as a result of this pandemic.
Criteria for Support
Funding for MCA's Relief and Recovery Grant program is limited. Submission of an application does not guarantee funding. Requests will be assessed by MCA's Cultural Grants Committee and based on the immediate severity of threat to the organization's sustainability and threat to its ability to impact our community's economic vibrancy in brighter days, as shown by description/estimation of losses/expenses and threat to mission in the application.
Grant Amounts will be based on an organization's current fiscal year budget
With Less than $100,000 budget up to $1,500 potential funding
With $100,000-$300,000 budget up to $2,500 potential funding
With $300,000-$500,000+ budget up to $5,000 potential funding
Application Instructions
All application materials must be submitted online. While completing your application, please:
Be brief, clear and direct, focusing on what is most important.
We recommend that you prepare your responses offline in a word document then copy and paste them into the appropriate sections of the online application.