"SPECTRUM OF CREATIVITY" 2021 STUDENT AND EMERGING ARTIST COMPETITION
April 9, 2021 @ 8:00 am

-

July 7, 2021 @ 5:00 pm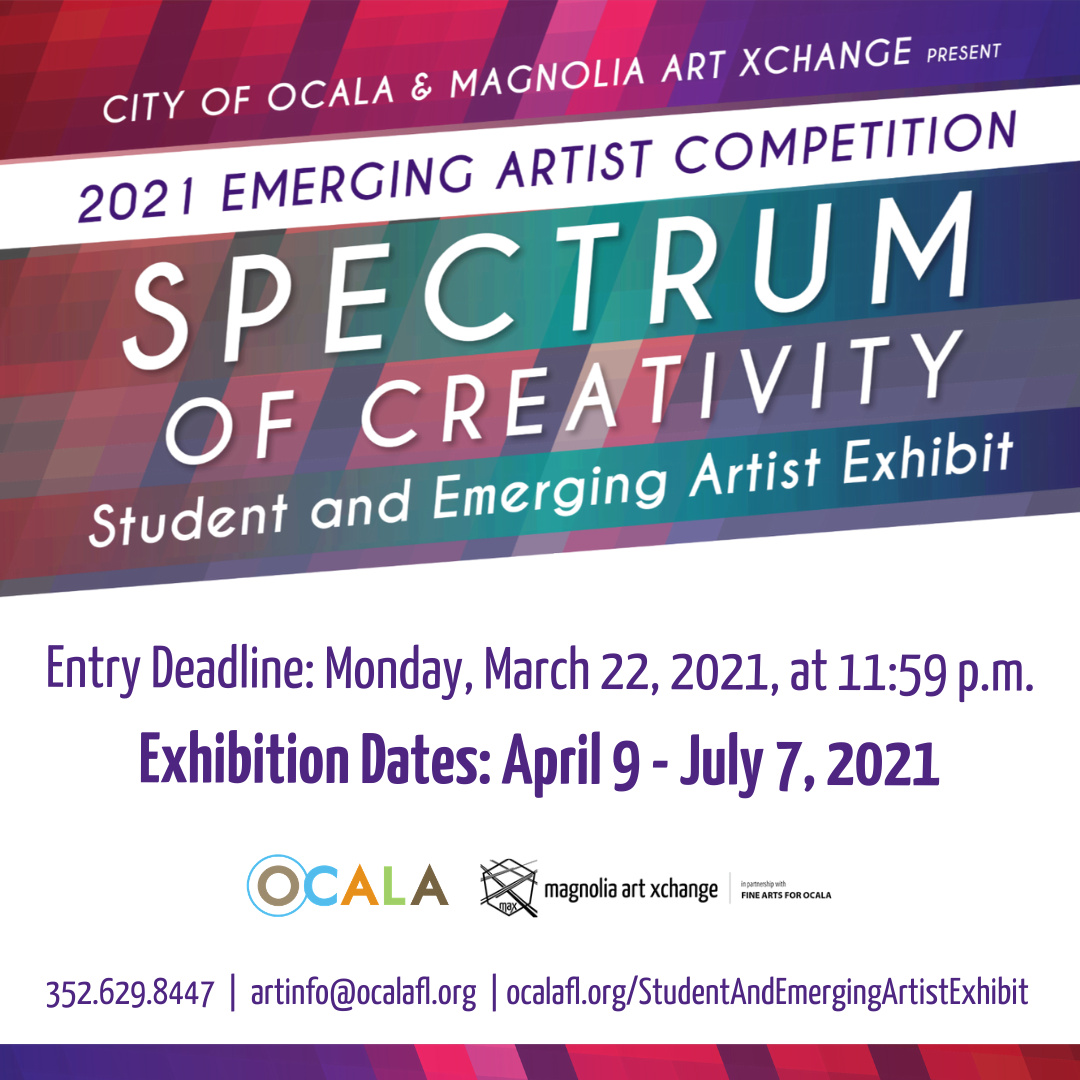 The City of Ocala and the Magnolia Art Xchange invite artists with up to 10 years' experience to submit entries for the "Spectrum of Creativity" 2021 Student and Emerging Artist Competition, which will take place Friday, April 9 through Wednesday, July 7 at City Hall, 110 SE Watula Ave.
Artists will compete in three divisions according to their respective years of experience: high school students, 1 – 5 years' active experience, and 6 – 10 years' active experience. All entries must have been completed within the last two years. Early entries will be given priority placement within the gallery and the juror will award winners in each division, as well as Best of Show. Awards will be presented at a reception taking place Wednesday, April 21 at City Hall.
The prizes for this competition include more than $2,000 in awards, including scholarships to the College of Central Florida (High School Division), a feature in Ocala Magazine (Best of Show), a professional artwork scan (first place in each division and Best of Show), an annual membership to the Appleton Museum of Art and Marion Cultural Alliance, and a registration fee waiver for the 2021-22 season of
First Friday Art Walk (Best of Show).
Entry Procedures
Each artist may submit one piece for exhibition and jurying. All entries must include the entry form, an artist statement and artwork photograph (in a .jpg file format with a resolution of at least 1900 pixels in the widest dimension). Photos can be emailed, or artists can mail printed photos, a CD or USB with digital images. Entries must be submitted no later than Monday, March 22 at 11:59 p.m.
Entries can be submitted online at www.ocalafl.org/studentandemergingartistexhibit, via email to
[email protected] or mailed to City of Ocala Cultural Arts, 828 NE Eighth Ave., Ocala, FL 34470.
Calendar of Events:
• Monday, March 22, 11:59 p.m. – Deadline for entry submissions
• Wednesday, April 7, 3:30 to 5 p.m. – Artwork drop off at City Hall
• Friday, April 9 – Show opens
• Wednesday, April 21, 5:30 to 7 p.m. – Opening reception and awards ceremony
• Wednesday, July 7 – Show closes • Thursday, July 8, 3 to 5 p.m. – Artwork pickup
This event is sponsored by the City of Ocala, Magnolia Art Xchange, Appleton Museum of Art, College of
Central Florida, Grafito Advertising, Marion Cultural Alliance and Ocala Magazine.
For more information, or to view the complete call to artists, please contact the Cultural Arts Office at
352-629-8447 or visit www.ocalafl.org/culturalarts.