Seeing Peacocks Through My Eyes: A Pop-Up Immersive Experience Into Indian Culture
July 1, 2021 @ 5:00 pm

-

July 10, 2021 @ 5:00 pm

Free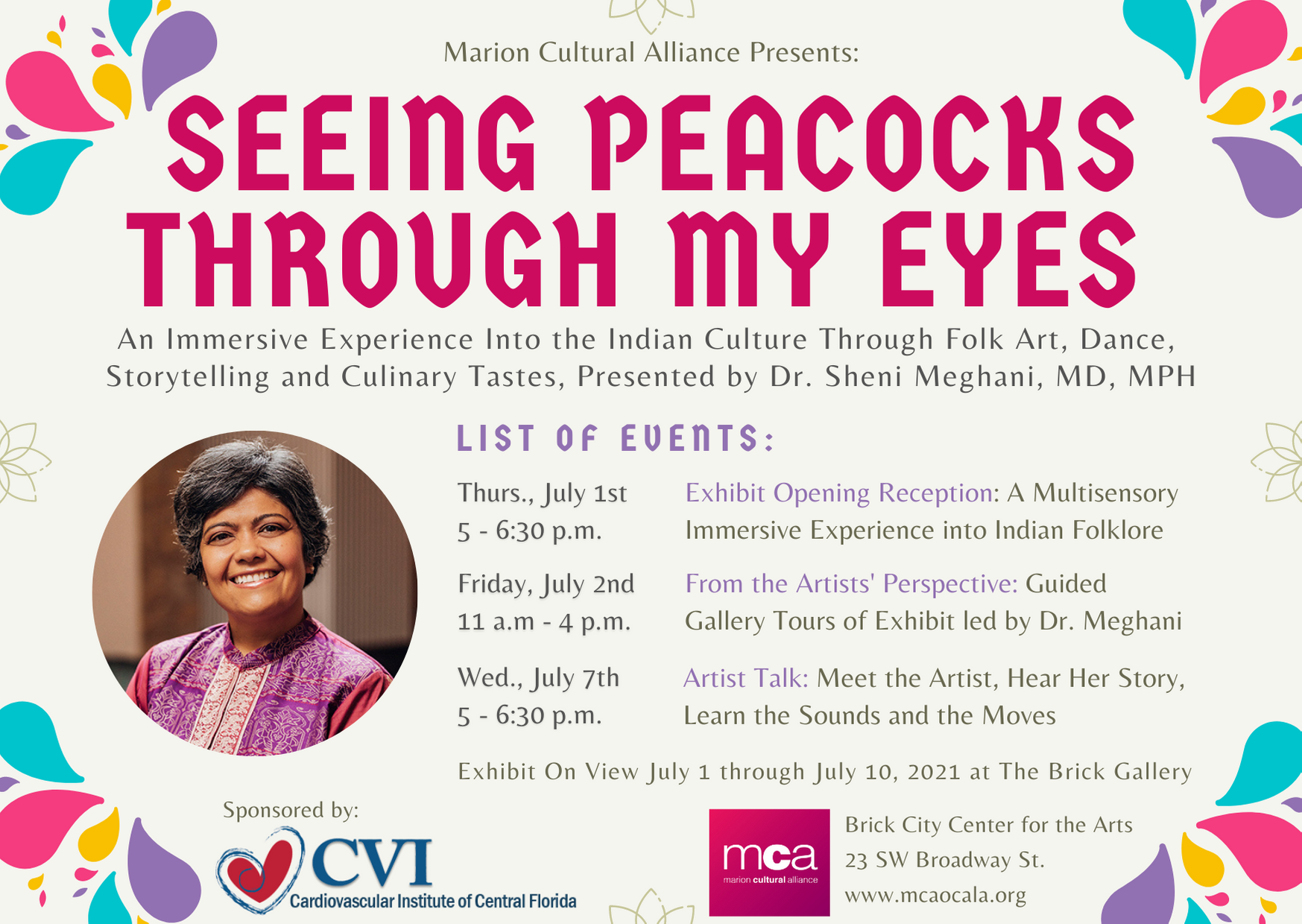 SEEING PEACOCKS THROUGH MY EYES: A Pop-Up Immersive Experience Into Indian Culture through Folk Art, Dance, Storytelling and Culinary Tastes, presented by Dr. Sheni Meghani, MD, MPH. On View July 1 through July 10, 2021. Dr. Meghani's exhibit and activities will be the first of its kind ever presented at Brick City Center for the Arts and will broaden visitors and participants' understanding of (and appreciation for) India, its people, traditions and culture. This unique Pop-Up Exhibit is sponsored by Cardiovascular Institute of Central Florida.
LIST OF EVENTS:
Thursday, July 1st (5-6:30pm): Exhibit Opening Reception – Join us for a unique multi-sensory immersive experience into Indian Folklore. Meet & greet with the artist while enjoying authentic Indian bites, songs and fashion.
Friday, July 2nd (11am – 4pm): Enjoy 30min guided gallery tours of the exhibit led by Dr. Meghani. See the exhibit from the artists' perspective, hear the story behind each painting and learn the meaning of the peacock in Indian culture.
Wednesday, July 7 (5-6:30pm): Gallery Talk with the Artist, Dr. Meghani. Enjoy an intimate night with the artist, hear her story and learn the sounds (and the moves!) of Indian folk music. BYOB!
About the Artist…
Dr. Sheni Meghani is an artist who brings the influence of Indian folklore to her art. Sheni grew up in the Western part of India called Gujarat in the midst of rich folk music, art and literature. Sheni is the grand-daughter of Mr. Jhaverchand Meghani, a distinguished poet, writer, researcher, freedom fighter, journalist, social reformer, orator and singer from India. He was given the title, 'Rashtriya Shayar', or Poet of the People, by Mahatma Gandhi. Sheni grew up with his stories and music that are intricately woven into the fabric of folk life of Gujarat. While growing up in India, Sheni received training in Indian classical singing, dancing and painting. Through her paintings, she shares the stories she has heard, read and danced to as a child growing up in India. Her work blends painting, singing and story-telling into a multi-sensory experience of the richness of traditional folklore of Indian province of Gujarat. Her art exemplifies her unique view and appreciation of the peacock, which symbolizes wealth, beauty, art and much more since the beginning of time.
Sheni enjoys wearing Indian sarees at every opportunity she gets, eating Indian fast food, and, singing Indian songs for anyone who would ask her to sing (or not!). Sheni and her husband live and work in Ocala.
Come and enjoy this unique cultural experience 
#atTheBrick
! FREE admission, donations appreciated. For gallery hours and other information, please visit 
mcaocala.org
, or contact MCA at 352-369-1500.