October Exhibit – Nature in the Balance: Exploring Fauna and Flora of Florida & South America
October 1, 2021 @ 5:00 pm

-

October 30, 2021 @ 5:00 pm

Free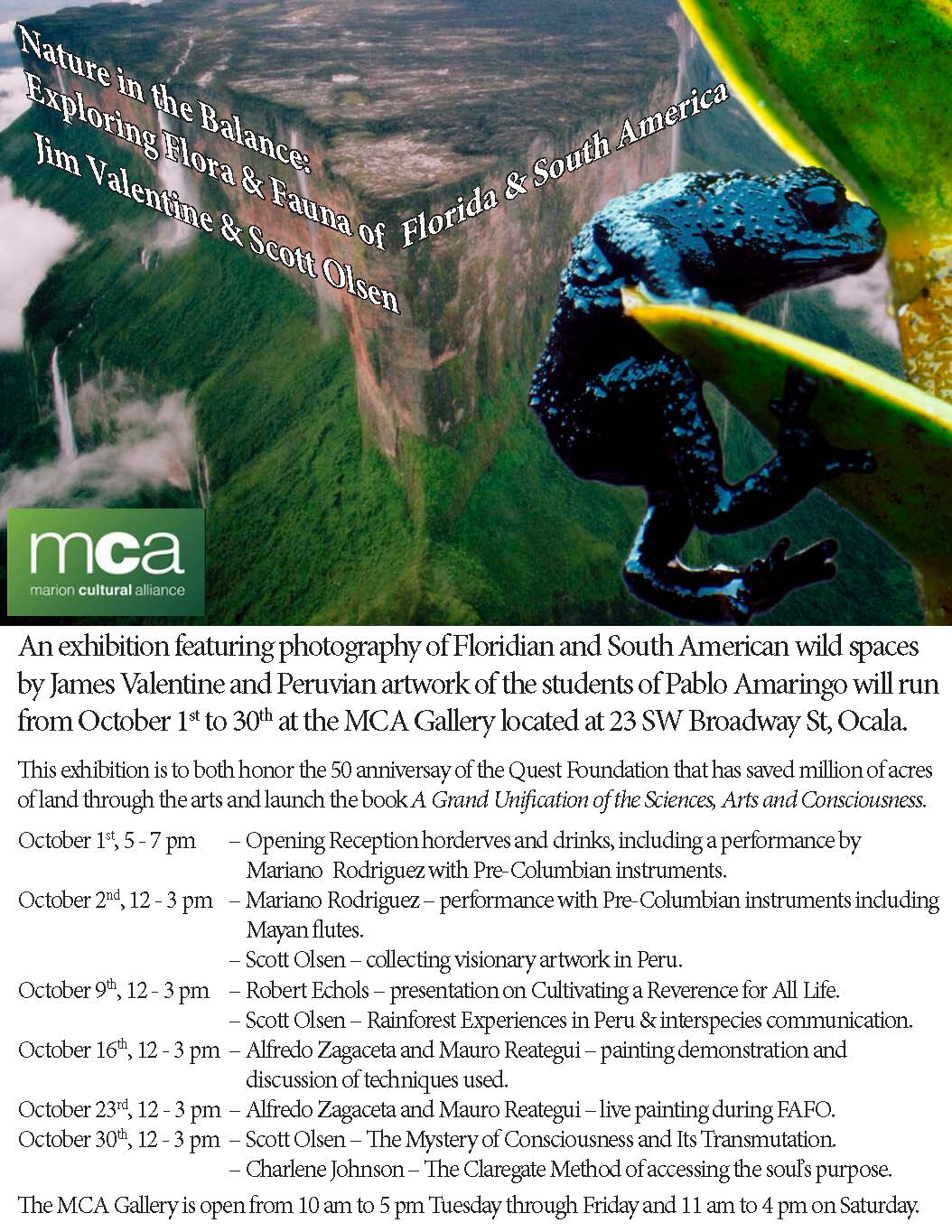 MCA presents an immersion in ART & CULTURE, just in time for NAHM (National Arts & Humanities Month)!
Come see our October exhibit – Nature in Balance: Exploring Flora & Fauna of Florida & South America, curated by Dr. Scott Olsen, and featuring the photography of James Valentine and Peruvian visionary artworks from students of artist Pablo Amaringo. Paintings presented in the exhibit will demonstrate this interesting contrast of childhood innocence and mature vision. Some of the highlighted artists include Alfredo Zagaceta, Ener Diaz, Deny Efers, Dennis Rengifo, Noe Nolorbe, Yadra Alegria & Guillermo Acuna. This exhibition is to both honor the 50 anniversary of the Quest Foundation that has saved million of acres of land through the arts, and launch the book A Grand Unification of the Sciences, Arts and Consciousness by Scott Olsen.
About the Artists / Curators:
Jim Valentine is a visionary naturalist, photographer, artist, poet, speaker, and videographer applying many cinematic techniques whose works have helped preserve millions of acres. He coordinates his photography with leading environmental groups and cultural organizations throughout the world. He has published ten large-format books featuring some of the best natural history fine art photographic coverage of the south eastern US. He is president of the Quest Foundation (
www.questfoundation.org
), now celebrating its 50th anniversary.
Scott Olsen is professor emeritus of philosophy and religion at the College of Central Florida (CF). He is best known for his work on Plato, sacred geometry and the ancient wisdom. He has lectured internationally on esoteric philosophy, speaks regularly for the New York Open Center's Esoteric Quests, IANDS (the International Association of Near-Death Studies) and the Prince of Wales Foundation for Traditional Arts. His book, The Golden Section: Nature's Greatest Secret, won first place for design by the Book Binders' Guild at the 2007 New York Book Show and is now in nine languages. He, together with three physicists, has just completed A Grand Unification of the Sciences, Arts & Consciousness.
Joining forces, Jim Valentine and Scott Olsen intend to combine their unique set of talents in addressing Nature from a novel perspective. Their research and travels have led to a deepening appreciation for the consciousness and symbiotic cooperation of all flora and fauna.
LIST OF EVENTS FOR THIS EXHIBIT:
October 1st, 5 – 7 pm – Opening Reception hor d'oeuvres and drinks, including a performance by
Mariano Rodriguez with Pre-Columbian instruments.
October 2nd, 12 – 3 pm – Mariano Rodriguez; performance with Pre-Columbian instruments including Mayan flutes | Scott Olsen – collecting visionary artwork in Peru.
October 9th, 12 – 3 pm – Robert Echols; presentation on Cultivating a Reverence for All Life. | Scott Olsen; Rainforest Experiences in Peru & interspecies communication.
October 16th, 12 – 3 pm – Alfredo Zagaceta and Mauro Reategui; painting demonstration and
discussion of techniques used.
October 23rd, 12 – 3 pm – Alfredo Zagaceta and Mauro Reategui; live painting during FAFO.
October 30th, 12 – 3 pm – Scott Olsen – The Mystery of Consciousness and Its Transmutation | Charlene Johnson; The Claregate Method of accessing the soul's purpose.
Exhibit will be on view from October 1st through October 30, 2021. For
a list of events, please visit 
mcaocala.org.
 Questions? Contact MCA at 352-369-1500.