Michael Brennan: Equine Art Exhibit
February 5, 2021 @ 5:00 pm

-

6:00 pm

Free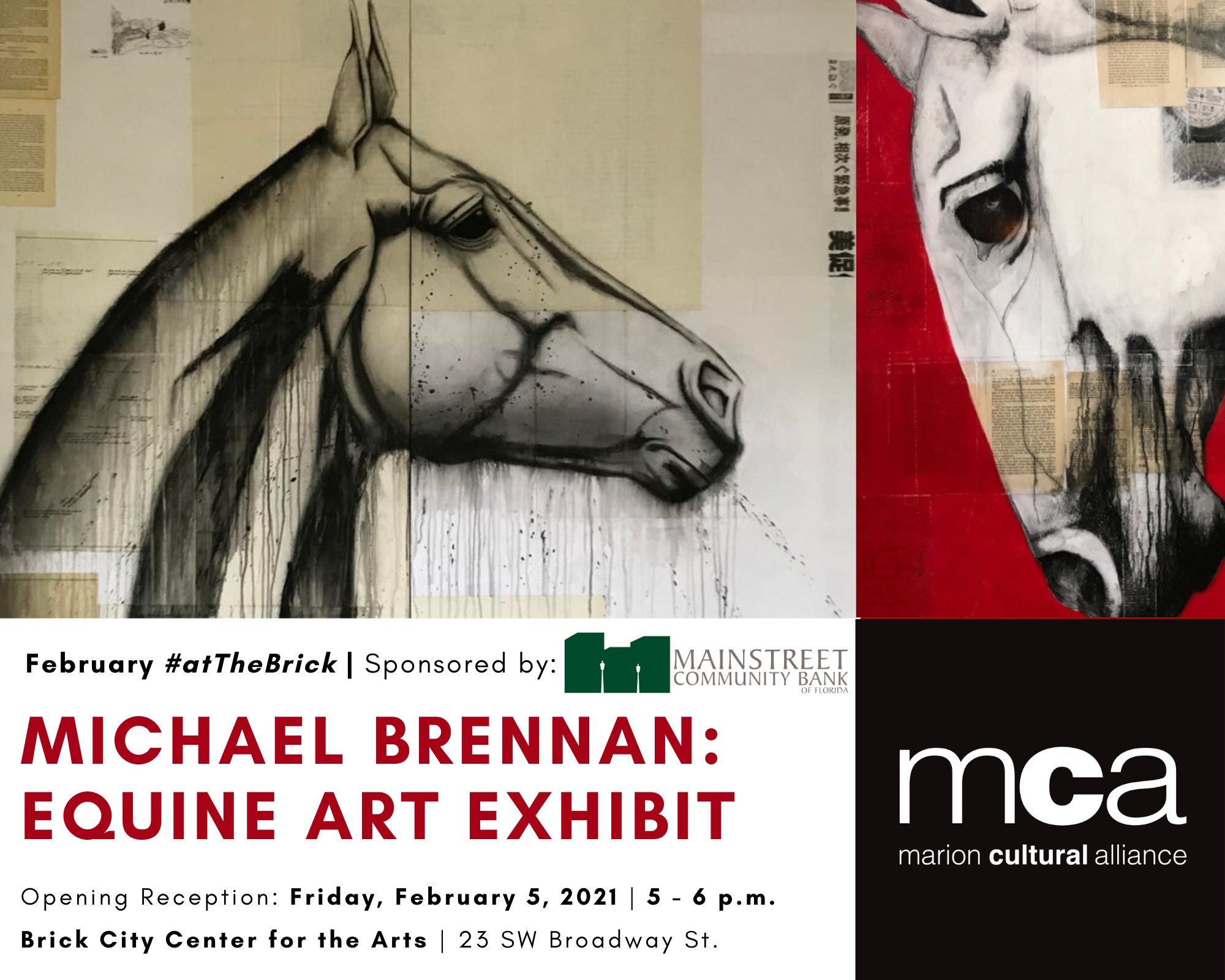 Join us for the opening reception of our February exhibition #atTheBrick featuring equine art by Michael Brennan.
Friday, February 5 from 5-6pm at Brick City Center for the Arts (23 SW Broadway St.). We will have light refreshments, wine and a chance to meet the artist. Masks required inside the gallery. All pieces will be available for purchase. #SupportLocalArt
February Exhibit is sponsored by MAINSTREET COMMUNITY BANK OF OCALA! ♥
About the Artist…
There is a conventional thought that the Pop Art movement existed from the mid 1950's until the late 1970's, but for Brennan, the movement never ended. The idea that the utilitarian objects surrounding us can be seen as beautiful art is what drives him. He sees potential in creating art by combining unrelated objects and uniting them with color and spatial harmony thereby bringing more meaning than simply the means of necessity and convenience.
Brennan's process begins with either stretched canvas or plywood panel which may support a collage of vintage literature and technical drawings building the background with color and geometric suggestion. Over that, images are built up with pencil, charcoal, ink, acrylic and oil. These are the images of objects that challenge the existing notions of the objects that attend our daily existence. Large scale works extend to seven feet by nine feet.
Brennan was awarded "Best in Show" at the Old Fourth Ward Arts Festival, in Atlanta in 2016, and at the Big Four Show, in Louisville in 2017. In 2018 he was the featured artist at the Fine Arts for Ocala Festival.
This exhibit will be on view Feb. 5 through Feb. 27, 2021. Gallery hours are Tues. – Fri., 10am to 5pm, and Saturdays, 11am – 4pm. Free admission, donations appreciated. Questions? Please contact Gallery Director at [email protected] or 352-369-1500.
The Brick Gallery is sponsored by Ocala Electric Utility, Renasant Bank, Recharge Clinic and Angie Lewis State Farm. ❤