MCA's Block Party on Broadway Fundraiser
November 4 @ 5:00 pm

-

7:00 pm

$55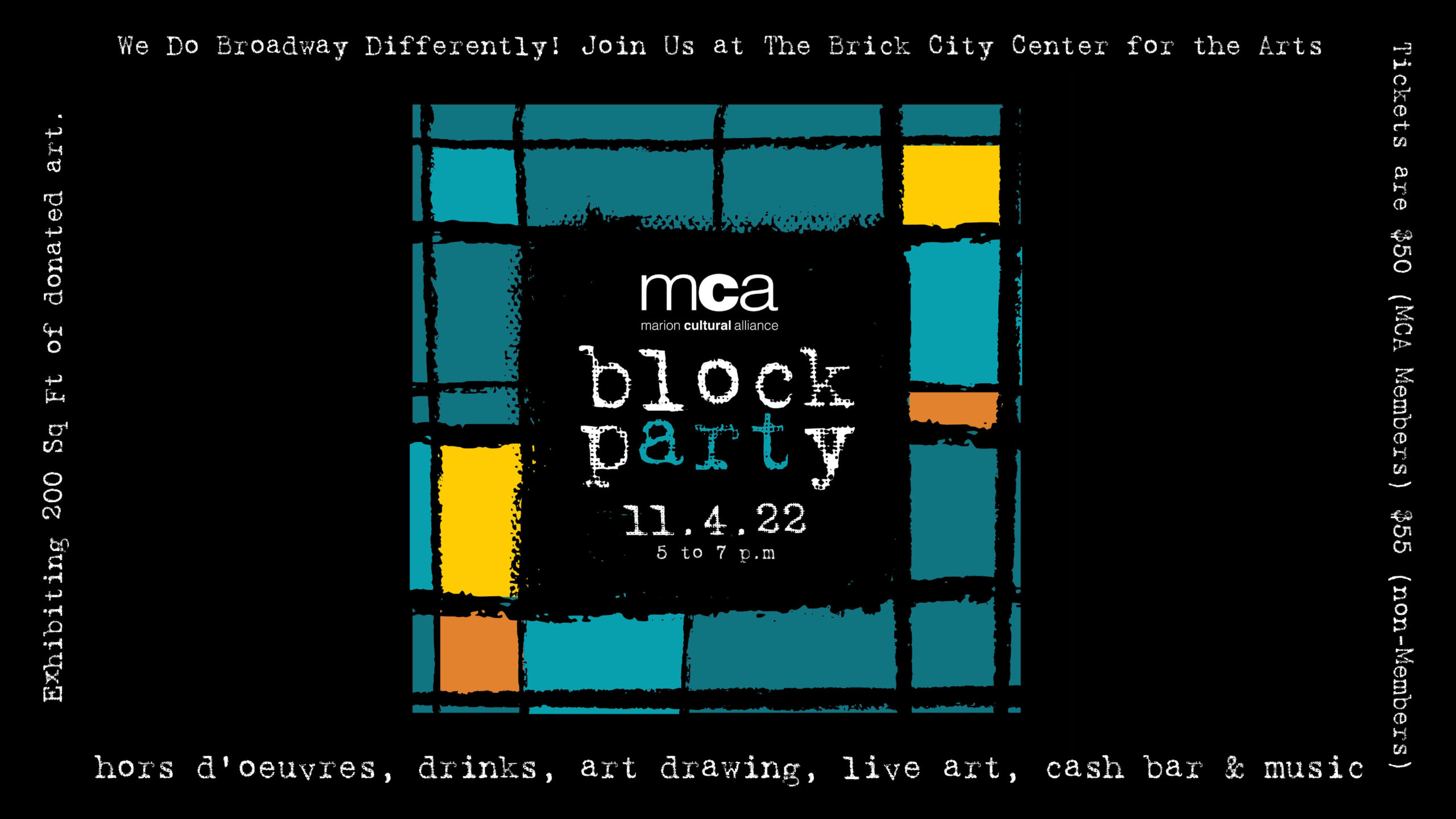 About this event
Marion Cultural Alliance (MCA) to host fundraiser Block Party on Broadway: An art exhibit featuring art created by local, regional, renowned national and international talent. Bringing back an iconic MCA event, 16 years later!
MCA invites you to join them at their Block PARTy on Broadway fundraiser. The event will take place at the Brick City Center for the Arts. The exhibit kicks off on Friday, November 4th through Saturday, November 26th, and will showcase art created and donated by celebrities, international, locally-based artists, designers, creators, youth, and more. Funds raised benefit MCA, its programs and initiatives.
The opening reception will take place on Friday, November 4, 2022 from 5 to 7 p.m., with open gallery hours from 7 to 9 p.m. coinciding with the City of Ocala's First Friday Art Walk.
Tickets are $50 (MCA Members) $55 (non-Members) and includes:
Exclusive VIP access to the gallery and awards ceremony
A ticket for the art drawing (each guest will get a piece of art!)
Hors d'oeuvres
One drink ticket
Live art demonstrations
Art drawing
A cash bar with signature cocktails
Music by DJ
The purchase of a ticket entitles each guest to participate in a drawing. Tickets will be drawn at random and participants will be able to select their artwork in the order their tickets are called. All artworks are to remain on display through the end of the exhibition. Call to Artists will be available on mcaocala.org on August 15, 2022.
Get your tickets TODAY!
---
Artist Participation
Important: Deadline to ensure participation is Monday, September 5 by midnight. Only registered participants will get their canvases during Pick Up dates (Sept. 6 – 10, during gallery hours at Brick City Center for the Arts). If you have any specific questions or concerns, please contact us ASAP via email at [email protected]
NOTE: PLEASE BE CONSIDERATE WHEN CLAIMING MORE THAN ONE CANVAS. IF YOU CLAIM THREE (3) CANVAS, WE EXPECT YOU TO BRING THREE FINISHED ARTWORKS BY THE ESTABLISHED DEADLINE. THANK YOU.
For more information, visit the CALL TO ARTISTS and Important FAQs.
______________________________________________________________________
Entry Guidelines:
Artist participation is free. Each artist may claim up to three (3) blocks/canvases to be completed by the artist in their medium of preference. Open to local, regional and national artists of all levels and ages. Youth, student and other creative participants are encouraged!
MCA will provide the blank canvases to each registered participant. Participating artists must sign a release form and return the completed piece by the established deadline.
All pieces will be donated and sold to benefit MCA. This will be a juried/judged exhibit. Up to $600 in cash prizes will be awarded for participants in the categories of Best in Show, First, Second and Third place. Exhibit sponsors will have first selection during opening night. All work must be ORIGINAL; no giclees, reproductions or mass produced kits/stencils.
All entries are to be completed and submitted physically (or mailed in) by October 29, 2022. Artists must follow the application process and include:

Artist's ID Card on the BACK of each piece
Signed Artist Entry Form

Acceptance into the exhibit is solely at the discretion of MCA. We reserve the right to reject work for the gallery that does not meet the above requirements or does not follow our standards.
Please refer to our FAQ's, Timeline and our Gallery Standards for more information.
_______________________________________________________________________
TIMELINE – Please ensure you can make these dates in order to participate:
Deadline to RSVP Participation: Monday, September 5th by midnight (Add RSVP link)
Canvas Pick Up Dates: September 6 – 10 (during gallery hours)
Paint & Pour PARTy: Thursday, September 22, 2022 (5-7pm) at The Brick, hosted by Art Army Ocala
Deadline / Drop Off Date(s): October 27 – 29, 2022 (during gallery hours)
Artists' Reception: Friday, November 4, 2022 (5 – 7 pm) | Awards announced at 5:30pm
Exhibit Dates: November 4 – 26, 2022, during MCA gallery hours.
Location: The Brick City Center for the Arts (23 SW Broadway St. Ocala, FL. 34471)
Gallery Hours: T – F: 10am-5pm | S: 11am – 4pm | Closed Sunday & Monday
Contact: MCA Gallery Director; Ashley Justiniano | Email: [email protected]
Register online HERE!
---
ART AWARDS PRESENTING SPONSORS
             
Contact information 
Marion Cultural Alliance
Brick City Center for the Arts
23 SW Broadway Street. in Downtown Ocala