January Artists' Reception – Nature's Beauty
January 8, 2021 @ 5:00 pm

-

6:00 pm

Free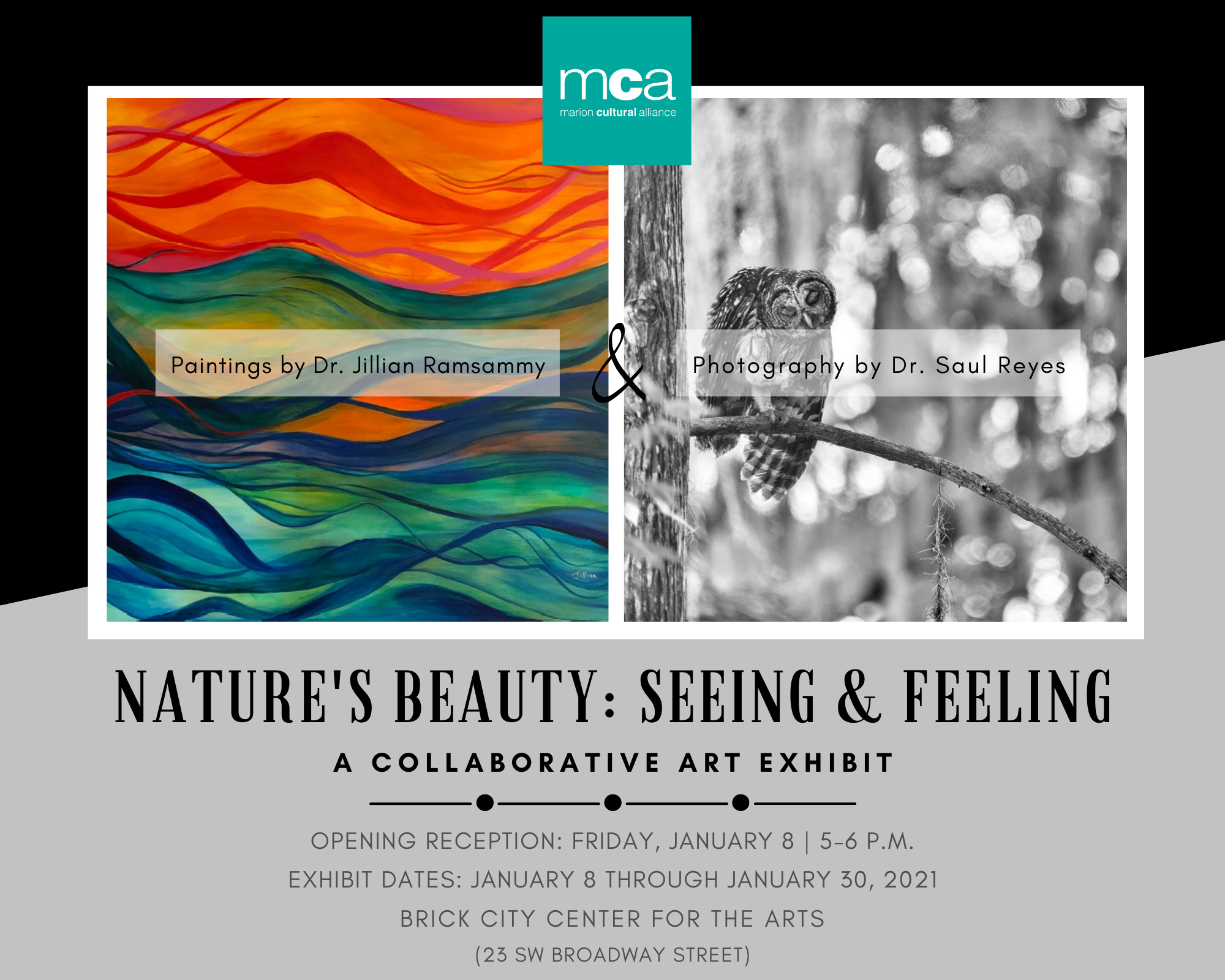 Nature's Beauty: Seeing and Feeling, a collective art exhibit featuring art by Dr. Jillian Ramsammy and Photography by Dr. Saul Reyes.
From the exquisite dance of Ibises tip toeing over sea foam, to expressive, sweeping layers of lines and colors, Nature's Beauty: Seeing and Feeling creates a dialog between focused attention to the created world and seeing the details of the created world through a contemplative experience of the interior life. There is synergy in the works of artists Saul Reyes and Jillian Ramsammy. They offer different perspectives of nature that draw viewers even closer to their subject.
Join us for the opening reception on Friday, January 8 from 5-6pm at The Brick Gallery (23 SW Broadway St.) for light refreshments and a chance to meet the artists. All pieces will be available for purchase. 
#SupportLocalArt
About the artists…
Ocala Florida artist, Jillian Ramsammy, was first inspired to become an artist more than 40 years ago when she studied painting in high school. At a time when there was only one television station on her home island of Trinidad, she also became intrigued with moving images. The energy and motion in her work, coupled with a brilliant palette, are influenced by her passion for film and her Caribbean heritage. Through gestural and expressive forms, she captures the rhythm of creation.
A common theme across the decades has been the nexus of art and spirituality, and the healing power of the creative process. Working primarily in acrylic on canvas, she uses a technique of layering wet on wet glazes of intense colors, voluminous shapes and fluid lines. She draws on memories, photographs, journaling, and observation as a lens through which she experiences, and then visually describes, the natural world in her paintings. Her work is at once an autobiography of the spirit, and an invitation to the viewer to self-discovery.
In 1987 she earned a Bachelor of Fine Arts in Film from Pratt Institute. She won a 1994 National Endowment for the Arts, Arts Administration Fellowship. For more than twenty-five years she has worked, both as a volunteer and an arts administrator, to nurture an environment where artists can thrive. As an arts administrator she has managed an extensive portfolio of cultural arts programs and now she has emerged as an individual artist in her own right.
She has served as a board member of the Marion Cultural Alliance (2006-2009); Board Member and Chair of the Ocala Municipal Arts Commission (2018-2020). She has participated in non-juried group shows including Our Children and Their World, National Urban League Conference Art Expo Invitational (1995), Miami Beach, FL; Communicating Love, (2003), Classical Times (2004); Where Water Ends and Begins (2005), at Brick City Center for the Arts, Ocala, FL; Best of the Best and Pleasures 2, (2020) Marion Cultural Alliance, Ocala FL.
…
Saul Reyes is a wildlife and nature photographer who lives in Ocala, Florida and travels and explores Central Florida with his camera. He was born in New York City to parents who were Cuban immigrants to the United States. He spent seven years of his childhood living in Tegucigalpa, Honduras, and carries cherished memories of playing outside in the woods with his brothers.
Reyes has lived in Florida since 1996, and he finds joy in discovering and rediscovering Florida's beauty and capturing that beauty in photographs. Within just a few minutes to less than a half day's travel, one can explore the natural beauty of beaches, coastal dunes, mangroves, swamps, springs, wetlands, pine forests, scrubs, hardwood hammocks, rivers, lakes, and marshes.
Photographing wildlife since 2013, his work represents the natural beauty of Florida and the diverse wildlife that calls it home. He enjoys photographing birds of all types, although owls, hawks, woodpeckers, herons and egrets captivate his interest most often. He has also photographed black bears, alligators, and bobcats in the wild. He is inspired by the storytelling photography of Clyde Butcher, Carlton Ward, Mac Stone and other environmental photographers.
Reyes will often use medium to long telephotos to isolate wildlife and show some close-up details of feathers, eyes, and other animal features. He typically shoots with a full frame Nikon camera to capture better lowlight details and allow high quality enlargements of his photographic prints.
He often features the classic and elegant look of black and white photography in his wildlife prints. Though shooting exclusively in digital now (Fuji and Nikon), his interest in black and white photography developed while shooting 35mm film cameras, including a Nikkormat FT2 and Nikon FM, and medium format film cameras, including the Yashica D twin lens reflex camera and the Mamiya RB67.
He is an artist member and board member of the Marion Cultural Alliance (MCA) in Ocala, Florida. He is a frequent exhibitor in juried and open art shows at MCA's Brick City Center for the Arts, including Pleasures, Best of the Best, and Pleasures 2. His photographs were also selected for the exhibition, Ocklawaha: Wild and Endangered River. He was selected for the juried art exhibition Community sponsored by Fine Arts For Ocala (FAFO). He has also exhibited in the juried show, Seasons of Change, at the newly opened NOMA Gallery in Ocala, Florida.
…
Our January exhibit will be on view Jan. 8 through Jan. 30, 2021. Gallery hours are Tues. – Fri., 10am to 5pm, and Saturdays, 11am – 4pm. Free admission, donations appreciated. Questions? Please contact Gallery Director at
[email protected]
or 352-369-1500.
The Brick Gallery is sponsored by Ocala Electric Utility, Renasant Bank, Recharge Clinic and Angie Lewis State Farm.