Fashion of India (Saree Draping Demo)
July 8, 2022 @ 5:30 pm

-

7:00 pm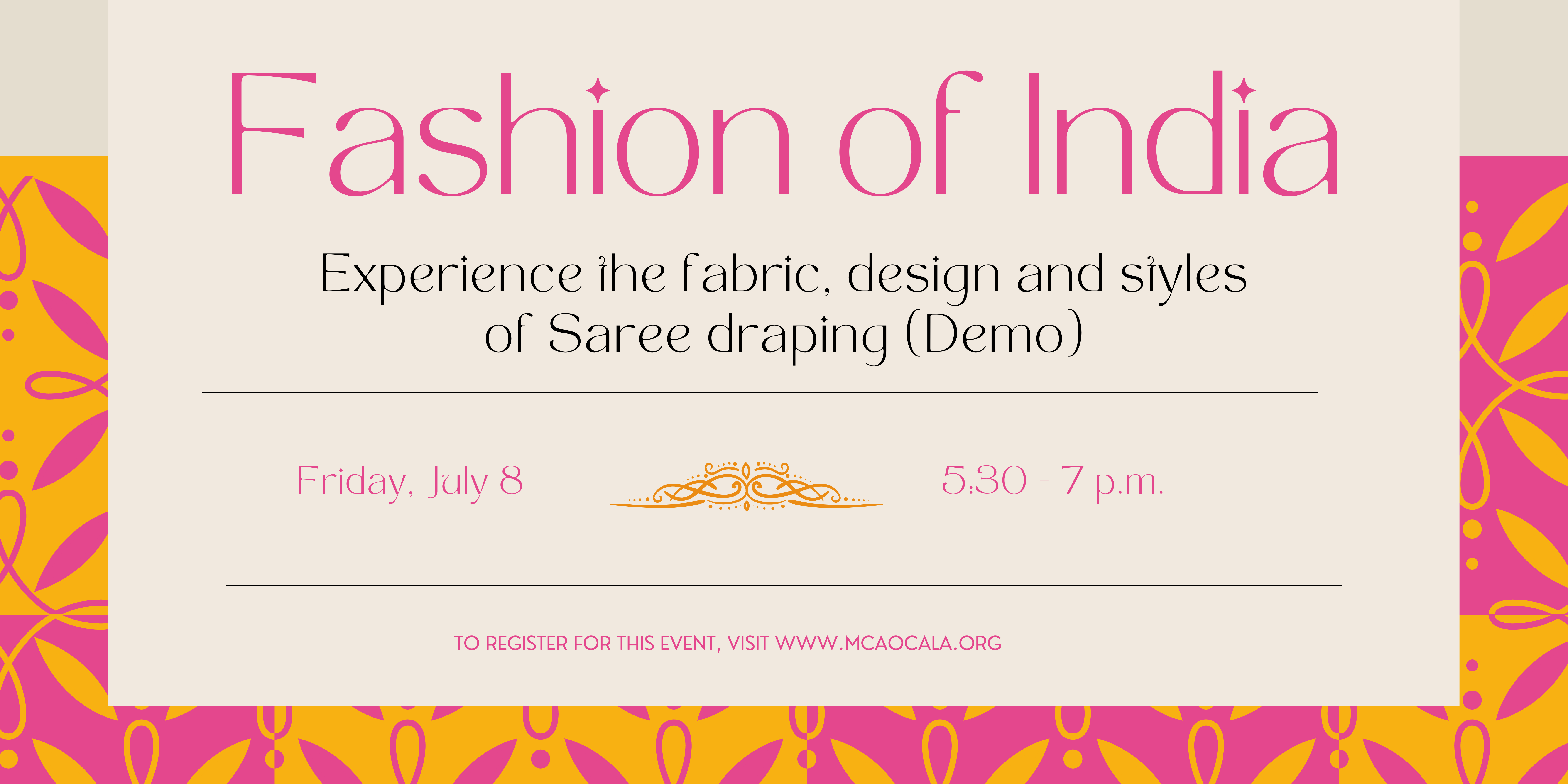 Sari, a traditional attire worn by women in India, has fascinated us with its artistic weaves, intricate designs, vibrant colors, fabrics and rich aesthetics.
This event will start with a lecture-demonstration on sari of India wherein Dr. Sheni Meghani will show a few saris and present information on various fabrics, weaves, designs and styles of draping a sari. Thereafter, you would have an opportunity to wear a sari with assistance from volunteers from Indian community. You will get to know more about a unique beautiful attire, hear stories associated with each sari, meet new people and experience a diverse culture. You can capture this memorable experience with your pictures in a sari with your friends.
This event is free and open to all.
For sari-draping: Limit is 15 participants. Registration is highly recommended so that we can have adequate arrangements to make this event enjoyable for everyone.
Suggestions for those who would like to wear a sari at the workshop –
1. We will provide saris to first 15 registrants for this sari workshop.
2. Please wear crop top or a tight-fitting blouse with pants or skirt. Solid neutral colors are highly recommended.
3. Wear or bring along a thin waist belt.
4. You can wear any dress-shoes or sandals that are comfortable for you. Please do not wear footwear with pencil heels or high heels because such heels can damage the sari.
5. All kinds of hair styles would go well with a sari; so please wear your hair the way you like.
6. Jewelry (necklace, earrings, bracelets, bangles) always enhance the look of a sari. You are most welcome to wear jewelry of your liking or check out the gallery gift shop for new pieces!
Questions? Contact MCA at 352-369-1500.