CREATE at The Brick: Fancy Garments!
May 10 @ 3:30 pm

-

6:00 pm

$70 – $80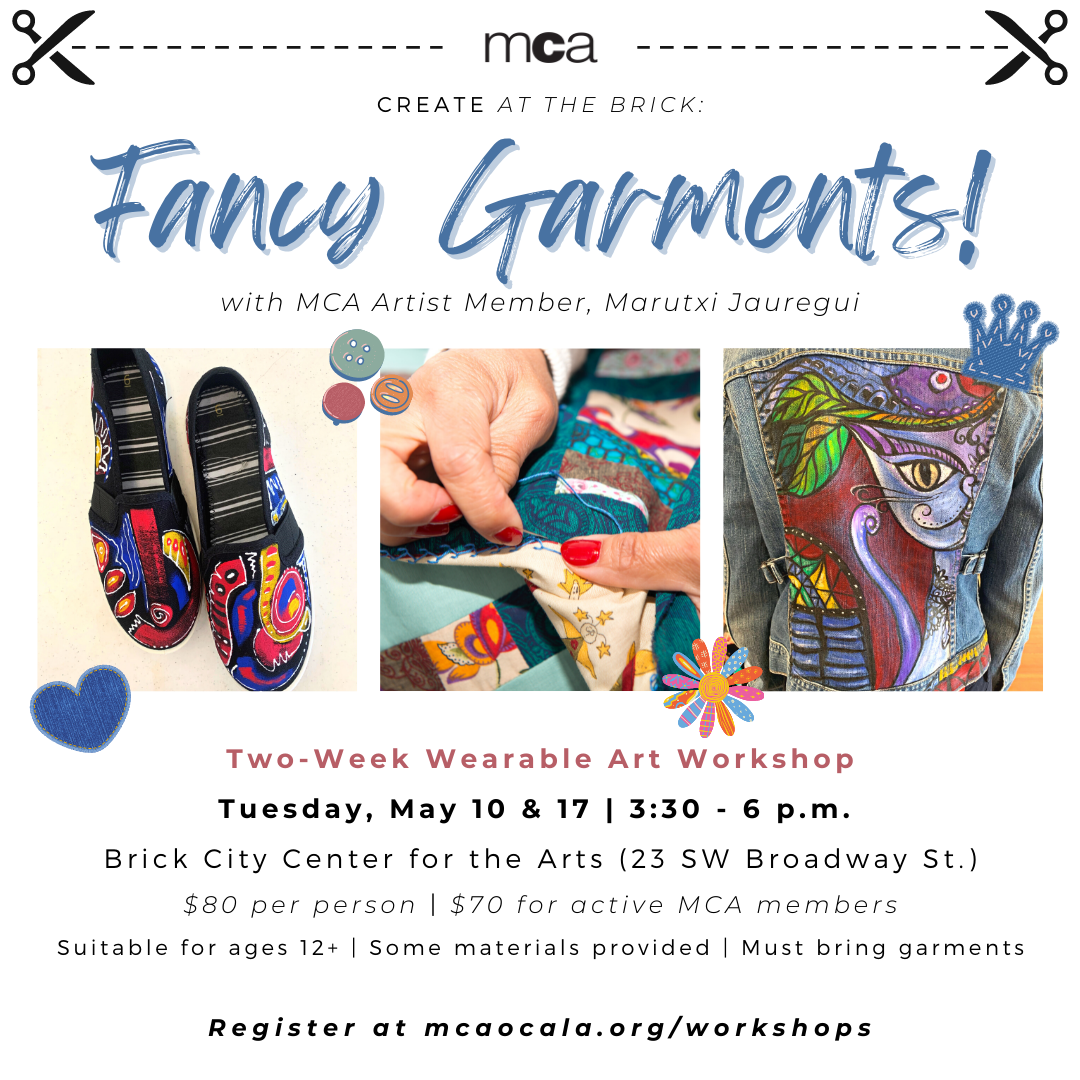 Wearable art workshop – Upcycle, revamp and give a new life to an old or plain boring piece of garment! Instructed by: MCA Artist member, Marutxi Jauregui.
This is a two-week workshop, meeting at Brick City Center for the Arts on Tuesday, May 10 AND Tuesday, May 17 from 3:30 – 6pm. In this two-week workshop, we will have fun by exploring the limitless options of transforming and upcycling clothing that we already have into wearable art.
Spark your creativity while learning how to paint on fabric, decorate with stiches, buttons, patches and accessories.
The students will work on their own pieces of clothing, I would encourage to scavenge their closet for some outdated garments to upcycle. They will learn how to combine pieces of clothing, fabric, paint and jewelry to create new accessories or to revamp or redesign another piece.
The instructor will help each student to layout and design a piece. Then they will to use some of the techniques learned to complete their piece during the class.
This workshop is suitable for adults and children ages 12 and up. Limited to 14 students max. English and Spanish instructions available.
FEE: $80 (for both days) -or- $70 for active MCA members!
The instructor will provide some of the materials needed to learn the techniques, like some of the paints for fabric, accessories, thread and fabrics scraps to create patches and decorations. But each student needs to bring their own garment to work with.
What does it mean to upcycle old clothes?
To upcycle old clothes means to use a garment that you don't want any more and to recreate it into a garment of higher value. The main purpose of upcycling is to recreate the original object and to give it a higher value than the one it had before your intervention.
Questions? Contact MCA at 352-369-1500.